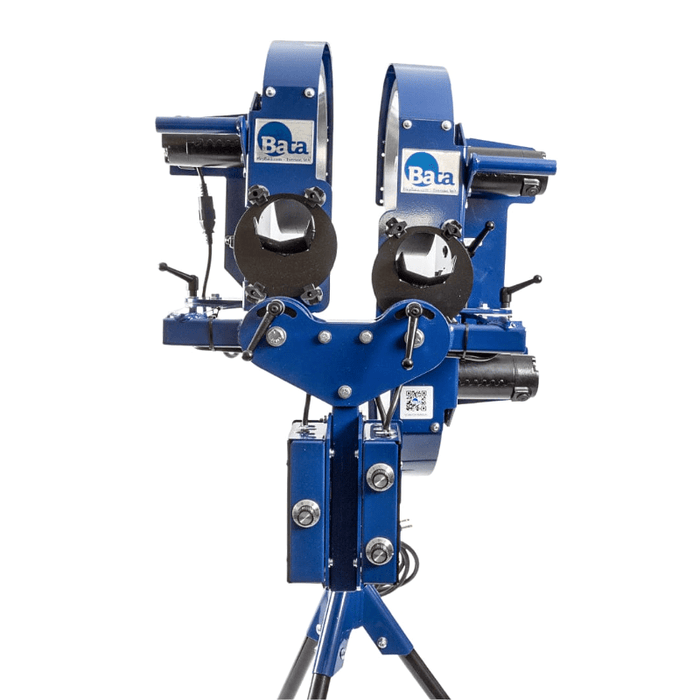 BATA 2Pitch3 Pitching Machine
Save

$0.00
Save

$-380.00
Original price
$3,399.00
-
Original price
$3,399.00
Manual:

Click here to see the user manual 
On the 2pitch3 Baseball Pitching Machine, both the Fastball head and the Curveball head can be tilted 35-degrees left or right to simulate right-handed or left-handed pitching.
The Fastball head now has two individual speed controllers. This allows you to set up the Fastball head to throw any type of pitch (similar to the BATA-2). Being able to alter the ratio of the two motor speeds allows you to throw many different types of fastballs (straight, sinking, tailing, etc.), as well as other pitches (slider, knuckleball).
Throw 2 different pitches in ONE SET UP
Fastball up to 95 mph, Curveball up to 75 mph
Heavy duty steel construction
Throws flyballs and groundballs
Throws real baseballs or dimpled (recommended)
Runs on 110 volt AC
10-year warranty
MADE IN USA
Goodyear rubber pitching wheels
WHAT DO I NEED FOR MANUAL FEEDING?
For manual feeding, all you need is the machine itself, the Roll-Away Stand (optional), some BATA Dimpled Baseballs (optional), and a protective screen.
For Auto Feeding, we recommend adding the BATA Auto Feeder, Remote On/Off, and at least two dozen Dimpled Baseballs.
THE AUTO FEEDER
There are some limitations when Auto Feeding the 2Pitch3 machine. Some combinations (of speed and distance will not work). If you are throwing slower from a certain distance than is realistic, the feed chutes will be out of alignment, and would not be able to accept the balls properly when auto feeding.
The general rule of thumb, the minimum curveball speed (in mph) is about equal to the pitching distance (in feet).
For example, (when auto feeding) the minimum speed curveball from 45 feet pitching distance is about 45 mph. From 55 feet, the minimum curveball speed is about 55 mph. The fastball will normally be about 15-20% faster than the curveball.